Carmen Posadas interview is an article by Jordi Pujolá, Spanish writer in Iceland
Mrs. Carmen Posadas is one of the most important writers in Latin America. She won the Planeta award, the most important Literary prize in Spain, among some others
She is a very respected woman and writes articles on magazines, newspapers and shows up frequently on TV
This article is part of my project La Contra Islandia that connects Icelandic and Spanish cultures
Read the full article in Spanish
Don´t miss:
Carmen Posadas interview
She called me into her house nearby the Teatro de la Zarzuela in Madrid
Carmen Posadas lives in a restored regal building. Inside her house, each piece of furniture fits perfectly with the paintings, tapestries and carpets
Carmen Posadas sat down in front of me, crossed her legs elegantly and we started talking
How is Carmen Posadas?
Carmen is a cheerful, affectionate and intrepid woman
By the way, we interchanged signatures on our last novels, but of course she is much more famous than me
Carmen says there are 2 types of writers, the lame ones, who need crutches (plan everything before starting writing) or the blind ones (have no idea what are they going to write) 
She considers herself a blind one and I am a lame one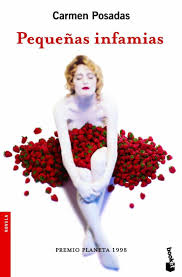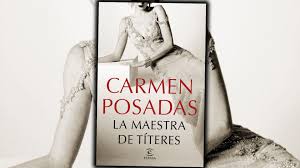 La maestra de títeres. Ed. Espasa

«When I started my last novel (La maestra de títeres), I only knew I wanted to  pay tribute  to William Thackeray, the author of Vanity Fair, and explain the evolution of Spain since the fifties to now on the voice of 3 women
I only had the first sentence of the novel, Last night I killed my mother and I didn´t feel anything, then I started the story and the development of the characters
However, the book was already written in one part of my mind, I just needed to remove the excess» 
Carmen Posadas is a self-taught writer and started publishing child books when she was 26 years old and got an important prize from the Culture Ministry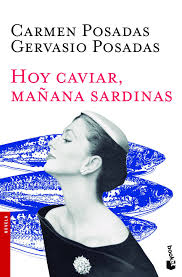 Nevertheless, it took some time for her to start writing novels for adults because as a good artist she felt insecure. In the meantime, she wrote down successful humorous essays and even coined a psychological term, the Rebecca´s Syndrome, that refers to the ghost of a past love
Carmen Posadas was born in Uruguay, her father was Ambassador. She moved to Spain in 1965 and got married in Moscow (Soviet period), then she went to London and ended in Spain again
Why do you write?
Carmen: «I write more for my drawbacks than for my advantages: When I was little, I was very shy and my sisters were bright both physically (blond and green eyes) and character (always singing and making jokes), so I used to go to my room and write a long a sad journey
On the other hand,  shy people are more observant because we don´t participate in the action»  
How did you deal with changing country every 4 years?
«For me it was really good, a kind of chance to start again: I´am not going to be so shy, I´ll be kinder, I´ll have more friends… It was like an incarnation
In conclusion, when you change country, the person changes as well»
By the way, the nomadic life of the diplomatic people inspired her to write (with her brother Gervasio) a funny book named Today caviar and tomorrow sardines, because one day you eat caviar with the Queen of England and another a sandwich of sardines in a remote office 
Writing is a lonely act, so you need help
On other matters, Carmen started up a writing school on the Internet with her brother (Yoquieroescribir) 8 years ago, they have more than 5000 students around the world and she is proud of it because many of them have already published a book 
«Writing is a lonely job and you need help, it´s something I missed when I started»

What is the difference with other schools?
«The writers who are in charge of the other schools usually don´t give the complete recipe, like the famous chefs
However, in our school we reveal my tricks but also Hemingway´s, Dicken´s (her favourite because combines literature for intellectuals and common readers) …»
Carmen Posadas admits she has copied many tricks from Charles Dickens
I asked Vargas Llosa something he had never been asked in 1000 interviews
The book market is all about women (professional and readers)
It looks like women read and men watch football
I asked Carmen for some tricks to engage women in my novels
«I have been asked many times about the difference of women and men writing, but when I asked the same question to Mario Vargas Llosa, he surprisingly confessed it was the first time someone asked him that
Personally I think there are many factors involved on the process of writing: the religion, the country… and of course, the sex
On the other hand, currently there are many women writing black violent novels with a great success, but with a different approach
And of course, women and men are interested in different themes
Nevertheless, there are some novels difficult to distinguish
For instance: The Portrait of a Lady by Henry James, that seems written by a woman, and Memoires of Hadrian by Marguerite Yourcenar, that it seems written by a men
Why women read more than men?
«In the old times women had more time, but nowadays we are as busy as them. Maybe it´s because we like looking at the introspective and psychological side of the things
As an anecdote, when I go to the book fairs and I asked men who do want me to dedicate the book they always say to their taunt or someone else, they are never for them! (laughing) 
However, that is changing. Currently, there are more men in the reading clubs and they participate actively, even more than women, and they are interested in the insides of the book. So still there is hope (laughing again)»
The happiness is like a little blanket that never covers the body completely
I asked her about happiness:
«First, happiness is like a little blanket that never warms the whole body: if you cover the chest, the feet get uncovered and so on
Second, I have never looked for happiness, it´s not my goal. I´m very ambitious and ambition and happiness work in a different range
In conclusion, the trick of happiness is not looking at the end (a donkey following a carrot in a line), but in the way, what you do to reach that impossible achievement
Then you learn to enjoy the trip, not the prize because the total happiness doesn´t exist. There is always something new on the horizon»
What do you know of Iceland?
«I have never been to Iceland. I looks like a fascinating icy wonderland, like the film Frozen
As well the geysers, the underground hot water that heats the cities
They have a woman First Minister (she is interested if Katrín Jakobsdóttir is a good politician) and the country suffered a hard economic recession (she asks me how the situation is nowadays)
Carmen Posadas entrevista de Jordi Pujolá, escritor español en Reykjavik
Bibliography (

Wikipedia)
Complete bibliography:
Una cesta entre los juncos. 1980. Children's story.
El cazador y el pastor. 1980. Children's story.
El chico de la túnica de colores. 1980. Children's story.
Hacia una tierra desconocida. 1980. Children's story.
El Niño de Belén. 1980. Children's story.
El pastor que llegó a ser Rey. 1980. Children's story.
El señor viento Norte. 1983. Children's story. (Winner of the National Literature Prize 1984).
El parque de papel. 1984. Textbook.
Escena improbable. 1986. Inverviews. In collaboration with Lucrecia King-Hedinger.
Kiwi. 1986. Children's story.
Hipo canta. 1987. Children's story
Yuppies, jet set, la movida y otras especies. 1987. Essay.
El síndrome de Rebeca: guía para conjurar fantasma. 1988. Essay.
Mi hermano Salvador y otras mentiras. 1990. Short stories.
El mercader de sueños y otros relatos. 1990. Short stories.
Una ventana en el ático. 1993. Novel.
Padres, padres. 1993. Essay
and more
María Celeste. 1994. Children's story.
Liliana, bruja urbana. 1995. Children's story.
Cinco moscas azules. 1996. Novel.
Nada es lo que parece. 1997. Essay.
Pequeñas infamias. 1998. Novel. (Winner of Premio Planeta 1998).
Encuentro con Cousteau en el polo Sur. 1999. Short story.
Un veneno llamado amor. 1999. Essay.
Tú y yo tan raros como siempre. 1999. Short story. In the collection: Hijas y padres.
Dorilda. 2000. Children's story.
La bella Otero. 2001. Novel.
Por el ojo de la cerradura. 2001. Essay.
El peinador de ideas. 2002. Short story.
La hernia de Viriato. 2002. Essay. In collaboration with her daughter Sofía.
El buen sirviente. 2003. Novel.
Dorilda y Pancho. 2003. Children's story.
A la sombra de Lilith. 2004. Essay. In collaboration with Sophie Courgeon.
Elemental, querido Freud. 2005. Short story. Included in the anthology: Mujeres en ruta.
Juego de niños. 2006. Novel.
Literatura, adulterio y Visa platino. 2007.
Hoy caviar, mañana sardinas. 2008. Novel. In collaboration with her brother Gervasio Posadas.
La cinta roja 2008. Novel.
Invitación a un asesinato 2010.
Awards
Ministry of Culture Award for best children's book published in 1984.
Planeta Award in 1998.
Apelles Mestres Award for Children's Literature, 2004.
Sent Sovi Gastronomy Award of Literature 2007.
Journalism Camilo José Cela Award in 2011.
Culture Award Madrid, 2008.
ABC Cultural & Ámbito Cultural Award 2011, from its directors Fernando Rodríguez Lafuente and Ramón Pernas.
Cartagena Historical Novel Award in 2011.
Glauka Award 2014.
Brazier Award, Goncourt Gastronomic French Novel 2014.
Carmen Posadas is a director of the European University of Madrid which has created the Carmen Posadas Chair.
She became an honorary professor of the University of Peru in 2010
Carmen Posadas interview is an article by Spanish writer in Iceland Jordi Pujolá